New Patients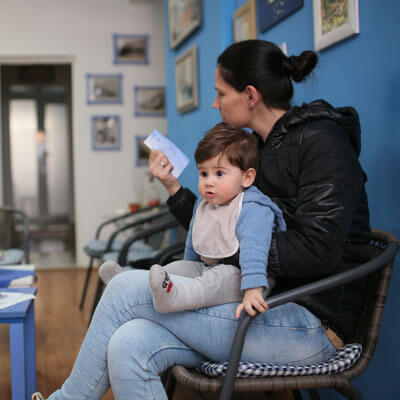 Welcome to Body 4 Life Healthcare! We're delighted that you've selected us as your chiropractic care provider. You will find our office comfortable, warm and friendly, with large windows and lots of natural light. Our goal is to offer state-of-the-art chiropractic care in a relaxing environment.
The First Visit
You'll be greeted by name when you enter our office. You will be shown through to the room and asked to complete some paperwork. Next, you will be introduced to Roger Reid, the Chiropractor who will look after you.
We explain everything first
The purpose of your consultation with the Chiropractor is to discuss your health goals and see if chiropractic is likely to help you. If it looks promising, a thorough examination will help identify the cause of your problem.
The physical examination includes orthopedic and neurological testing, range of motion, palpation and more.
Once Roger has all the information he needs, he will review your notes and X-rays give you a Report of Findings, where indicated patients may be referred for further investigations onward to a specialist but usually treatment will begin after the report of findings, on the first visit.
Regular Visits
Though relatively brief, these regular appointments are highly valuable. With the groundwork laid, Roger can easily assess your spine and nervous system. He also will adjust you. You'll be able to quickly get back to your day.
Similar to a routine workout at the gym, each visit builds on the previous ones. If you miss a visit, we can lose the momentum necessary to make the needed changes.
Progress Visits
As every patient is different, it's impossible to predict how you will respond to chiropractic care. Various factors determine the speed at which you recover, these include but are not limited to your age, how long the problem has been going on for, how bad things are, how many levels are involved, but also to what you are doing to help (or aggravate) things and on the optimal timing of your visits. We are constantly monitoring your response and adjust the plan according to how quickly you respond. Remember the quicker you get in, generally the easier it is to get you back to normal.
It's important to note that if you stop care once you start feeling better, your original problem is likely to return. Only then can we more accurately predict what it will take to complete your recovery and what's required to help you stay well.
A brief reexamination
We'll perform several of the tests that were given on your first visit. This process allows us to compare where you are in relation to where you were. The results of these tests will help our Chiropractor outline a more accurate plan for your future care.
Changing recommendations
If we can verify your progress by objective examination methods, we typically would modify your schedule of appointments. That's because we've built momentum from the slightly more intensive schedule during the initial phase of your care. We can often decrease the frequency of your visits without sacrificing continued progress.
Schedule an Appointment
Take that first step towards getting out of pain and on the path to feeling your best. Contact our London chiropractic clinic today to book an appointment!
CONTACT US »

New Patients at Body 4 Life Healthcare | 020 7402 8999