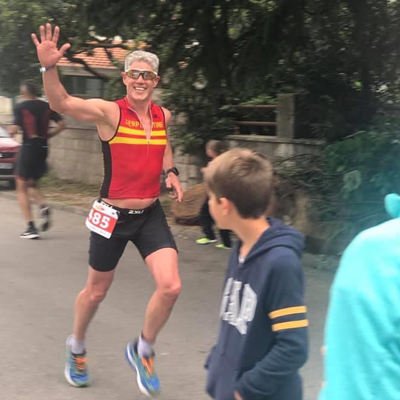 Founded in 1981, the London Marathon has become an iconic event that annually draws more than 30,000 participants. The race, which will be held this year on October 3rd, is currently branded as the Virgin Money London Marathon.
The London Marathon is the biggest mass-participation fundraising event of the year for charities, raising £66.4m in 2019. There are lots of first-timers and some who dress up in costumes such as a rhinoceros suit or a Batman or Superman costume to raise money for their charity of choice. While Dr Reid won't be donning a cape, he will be helping people get ready for the marathon and invariably treating some of the injuries and niggles that result from pushing your body.
No Stranger to Marathons
Dr Reid has been running marathons for quite a while. "I got started when a friend roped me into running one with him as he didn't want to do one on his own," said Dr. Reid. "I was training for a triathlon at the time and thought that running a marathon would be fun," he added. Dr Reid enjoys the planning, preparation and training that's involved in running a marathon. He also loves the lead-up to event day and the buzz of excitement on race day as well as the deep satisfaction of completing a challenge and being stronger for it.
Taking That First Step
If you're new to running marathons, the first step is to try and plan ahead. You need plenty of time to build up to the 26.2 miles that you'll be running. Dr Reid recommends that you undergo approximately 16 weeks of training. You may want to join a running club which will make long runs more sociable and enjoyable. Joining a club also helps you stay motivated throughout your training.
Whether you want to get in shape, tick off a bucket list "must do" or finish the race with a great time, you'll enjoy the challenge of running—or even walking—a marathon. "Remember that you don't need to set a record; participating in the marathon may be the start of a journey for you. With each successive marathon you run you can do a bit better each time," said Dr. Reid.
Check Out Future Posts on Prepping for the Race
In the coming weeks and months, Dr Reid will be sharing blog posts on preparing for the London Marathon. As he's both a chiropractor and marathoner, he has a special interest in foot mechanics and how they relate to injury and performance, he has considerable expertise in helping people prepare themselves for these lengthy races.
He'll cover topics such as choosing running shoes, having a plan, fueling with proper nutrition, staying hydrated, pacing properly, preparing for race day and more. "If you can get your training right, build up the mileage and get some long runs in, crucially; manage to avoid injury, fuel for the race beforehand, get the pacing right on the race and fuel and hydrate properly—if you get those right you will have a really great marathon and hopefully get a personal best. The challenge is to get all these things right which feels amazing," said Dr Reid.